Do you miss being able to park your car in your garage in Venice, Florida? We understand that many homeowners in Venice and all throughout the Sunshine State need to de-clutter their garage, but simply do not have the floor space to put all of their things. Garage Evolution can help you take back your garage with convenient overhead storage systems and safe racks.
Many people are forced to rent expensive storage units to free up space in their garage, but that means driving all the way to the storage unit whenever you or your family needs something. Others will store their items in dusty and hot attics or simply leave the clutter in mounds on the garage floor. We want to help clean up the mess in your Venice, Florida garage.
The overhead storage systems from Garage Evolution offer a great way to maximize all of the room in your garage and get your home organized again. Our safe racks allow you to keep your items in your garage, but stop them from getting in the way. We design and install overhead storage systems that attach to the ceiling of your garage, so you never have to worry about tripping on toys and old sports equipment again. Our safe rack storage systems can hold small and large items, and can support up to 600 pounds – or more!
Our design and installation team will work with you to make the most of your unused ceiling space. Safe racks are available in many shapes and sizes, and we can customize an overhead storage system that best fits your Venice home.
For a storage system or safe rack at your home in Venice, Florida, call us today at (941) 724-7032.
2 Safe Racks Overhead Ceiling Storage Racks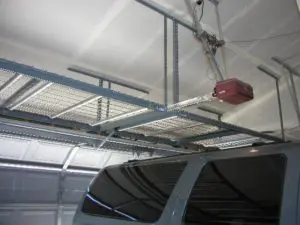 Overhead garage storage racks are the perfect solution for small and large items alike. Keep your things organized in the comfort of your home, rather than dealing with the inconvenience of traveling back and forth to storage sites.
How do I get one of these in my garage?
"*" indicates required fields