Take control of the clutter in your garage in Punta Gorda, Florida with the help of Garage Evolution.
You garage space doesn't have to be a messy storage space for old toys and lawn equipment. Garage Evolution has the ideal garage storage systems and safe racks to help you make your Punta Gorda, Florida garage usable again.
Every family in Punta Gorda can use their garage for storage without sacrificing floor space. Our garage storage systems are unique because they are custom designed to fit above your vehicles. Our safe racks attach to the ceiling of your garage, and they can hold all of your items out of the way, but safely within reach.
You no longer have to climb into a dusty attic to reach your valuables, nor do you have to deal with the mess and clutter of holiday ornaments and boxes of outgrown clothes lying around your garage. We will custom design a safe rack storage system to best use the ceiling space of your garage and hold your items. We are able to accommodate everything from large pieces of sports equipment, like bicycles and fishing gear, to small items, like books and collectibles.
Garage Evolution storage systems and safe racks are designed to be strong enough to hold most everything and have a storage capacity of 600 pounds or more.
To learn more call us today at (941) 724-7032.
2 Safe Racks Overhead Ceiling Storage Racks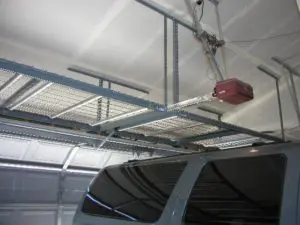 Overhead garage storage racks are the perfect solution for small and large items alike. Keep your things organized in the comfort of your home, rather than dealing with the inconvenience of traveling back and forth to storage sites.
How do I get one of these in my garage?
"*" indicates required fields