When you walk into your garage, are you tired of seeing the clutter lying on the floor? Do you miss knowing where the items you're looking for are among the clutter of toys, clothes and sports equipment? We want you to be able to safely navigate your garage in Manatee, Florida without having to wade through piles of items with our innovative garage ceiling storage and safe racks.
Garage Evolution's garage ceiling storage racks help homeowners in Manatee, Bradenton, Lakewood Ranch and all throughout Florida better organize their homes by maximizing the space in their garage. Unlike traditional indoor storage racks, our safe racks hang from the ceiling of your garage. This way, you are able to take advantage of space in your Manatee garage that most people never even think to use. Instead of cluttering up your walking space or parking area, you can store all of your items – big and small – in the open space above your head.
We custom design and install every garage ceiling storage and safe rack system to match your exact space. This allows you to have the most efficient system possible that not only gives you extra storage space, but also keeps all of your items within reach, but out of the way.
We are proud to help residents in Manatee, Florida get their garages space back again. If you are ready to get your garage organized with a ceiling storage system or safe rack, call Garage Evolution today at (941) 724-7032.
2 Safe Racks Overhead Ceiling Storage Racks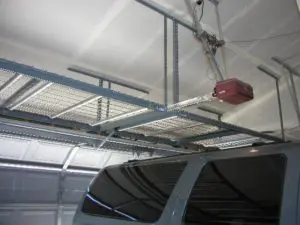 Overhead garage storage racks are the perfect solution for small and large items alike. Keep your things organized in the comfort of your home, rather than dealing with the inconvenience of traveling back and forth to storage sites.
How do I get one of these in my garage?
"*" indicates required fields