There are plenty of homes in Sarasota, Lakewood Ranch and all throughout Florida that are brimming with stuff. Don't let your garage be like those Sarasota residents who have surrendered to the clutter. Take back your garage with overhead garage storage and safe racks from Garage Evolution.
Are you tired of looking at all of the kids' toys, sports equipment, holiday decorations or other items taking up space in your Sarasota garage? Our garage overhead storage racks take advantage of space in your garage you wouldn't otherwise use. Our safe racks attach to the ceiling of your garage, and can hold large or small items, with a weight capacity as high as 600 pounds each. Instead adding typical shelving units that rest on the floor and take up more of your precious garage space, our overhead storage racks can safely hold just about anything without taking away from your parking area. Take back your garage and move about comfortably with safe and effective overhead storage and safe racks.
We are glad to build, design and install the safe racks for your garage in Sarasota, Florida.  Don't let clutter control your garage for one more day. Call Garage Evolution today at (941) 724-7032.
2 Safe Racks Overhead Ceiling Storage Racks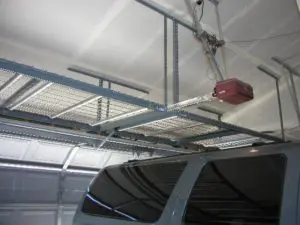 Overhead garage storage racks are the perfect solution for small and large items alike. Keep your things organized in the comfort of your home, rather than dealing with the inconvenience of traveling back and forth to storage sites.
How do I get one of these in my garage?
"*" indicates required fields